Cosmic Cleaning Service is a family-owned and operated business. For more than a decade, our mission has been to bring our high standards of cleanliness and order to our clients, freeing up precious time and allowing them to share in the emotional satisfaction that comes from a clean home. We understand the anxiety that comes with letting go of responsibility and trusting someone else with the cleanliness of your home, and, by extension, the safety of your family.
Our Professional Cleaning Services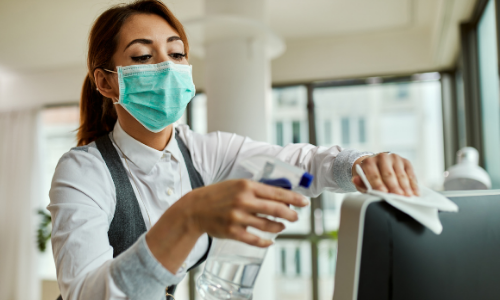 Peace of Mind High-Touch Sanitizing
Now included with every house cleaning or available as a stand-alone service: High Touch Sanitizing Service, where we will sanitize high-touch areas throughout your home.
| | Recurring Service | Deep Cleaning | Move Cleaning |
| --- | --- | --- | --- |
| KITCHEN | | | |
| Clean Countertops | | | |
| Dust countertop items | | | |
| Clean appliances; polish stainless | | | |
| Clean oven interior (Extra) | Add-on | Add-on | Add-on |
| Clean refrigerator interior (Extra) | Add-on | Add-on | Add-on |
| Spot clean cabinets | | | |
| Wash cabinet fronts | | | |
| Clean inside cabinets & drawers | | | |
| Sanitize sink; polish fixtures | | | |
| BATHROOMS | | | |
| Scrub tub/shower; polish fixtures | | | |
| Clean countertops; dust countertop items | | | |
| Clean inside cabinets & drawers | | | |
| Sanitize sinks; polish fixtures | | | |
| Clean mirrors | | | |
| Sanitize toilet and toilet area | | | |
| BEDROOMS | | | |
| Change linen; make beds | | | |
| ALL ROOMS | | | |
| Remove cobwebs | | | |
| Dust ceiling fans and light fixtures | | | |
| Dust wall art and A/C vents | | | |
| Dust knick-knacks and lamps | | | |
| Dust furniture; polish wood furniture | | | |
| Dust blinds | | | |
| Wash Blinds (Extra) | Add-on | Add-on | Add-on |
| Dust window sills | | | |
| Wash Window Sills | | | |
| Dust doors and door frames | | | |
| Wash doors and door frames | | | |
| Dust Baseboards | | | |
| Wash Baseboards | | | |
| Empty trash and reline trash cans | | | |
| Vacuum floors | | | |
| Mop hard-surface floors | | | |
Book The Cleaning
You Need